Editor's Bookshelf
XBRL for Dummies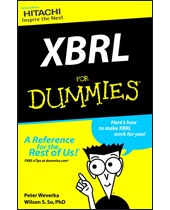 With the recent mandate by the Securities and Exchange Commission regarding the application of XBRL, knowing how to use this business reporting language is now a primary business imperative.
More Bookshelf > >


Exploring Strong Investor Confidence in U.S. Stock Exchanges
Cindy Fornelli
Executive Director
Center for Audit Quality





According to a new "pulse poll " from the Center for Audit Quality (CAQ), data security, regulatory oversight, and longevity are the most important factors behind rising investor confidence levels in U.S. stock exchanges.

Whistleblower to Receive Over $17 Million
Tiffany Robertson

WeComply

Omnicare Inc. has entered into an agreement with the Department of Justice (DOJ) to pay more than $124 million to resolve alleged violations of the federal Anti-Kickback Statute (AKS).

Roundtable


The need to track the actions of users inside a company has greatly increased the amount of data that entities must collect to ensure a complete view of all activity.


Jim Pflaging
President and CEO
SenSage
More Roundtables > >


Advertise your product/service here!
Success Story
Banco Volkswagen Adopts SAS Credit Platform

SAS is Bank Volkswagen's new supplier for operations support solutions. Volkswagen Financial Services AG´s Brazilian subsidiary will adopt SAS Real-Time Decision Manager and SAS Enterprise GRC Support in an effort to improve credit policy enforcement, workflow analysis and credit disbursement.

More Success Stories > >